More about Ri's Workshop Services
Tractor and Truck Repair
Parts, Engineering Works and Diesel Pump Room
Rebuilding of Tractors and Trucks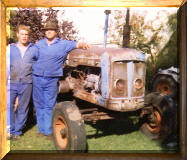 Jaco and his father, Peet Mouton
Click on photo thumbnail to see the larger version
Ri's Workshop was started in 1986 by the late Mr Peet Mouton with the aim in helping the farming community with tractor repairs in Heilbron. This once small business, that started as a mobile workshop, soon expanded to an established workshop in Heilbron, where Peet's whole family got involved in the workshop, engineering and offices.
Later, two of Peet Mouton's sons, Jaco and Pieter, took over the business and they are still in charge of affairs at Ri's Workshop.
Soon there were further extensions and Ri's Workshop currently offers full automotive engineering, a complete diesel pump room, spray paint facilities and a complete modern tractor workshop.
Ri's Workshop handles large contract work. Although the Mouton's business specializes in Ford and New Holland tractors, they also do work on all other makes and implements.

Visit the Workshop to see more.
With a nationwide customer base, as far as Port Elizabeth to Komatipoort, clients keep coming back for personal and outstanding service under one roof.
Contact the Mouton brothers: Pieter or Jaco at 058 852 2416 or send an email request
Ri's Workshop is you ONE STOP SERVICE!